The great debate — granite vs. quartz countertops. They both look very similar, so what makes them different? We are here to guide you through those differences. Consider the following when choosing between granite and quartz countertops.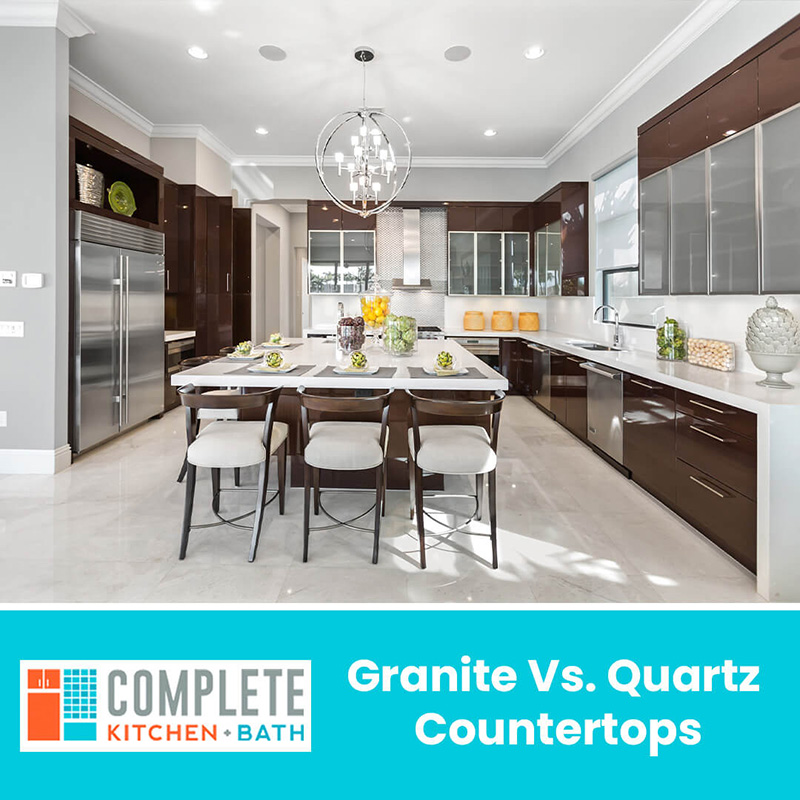 Granite Countertops – Granite is cut, and then polished to create a beautiful countertop. Granite comes in all different colors and options to choose from but lacks customization possibilities. Granite is known for being highly durable and resilient. However, these countertops do require a little bit of maintenance. After each use it is recommended to clean your countertops with a granite specific cleaner and reseal them annually to increase longevity.
Quartz Countertops – The main difference between granite and quartz is quartz is not 100% natural. Quartz is made up of natural quartz and fleck and glass are added to the rock to give the countertop variety. Quartz is also known to be very sturdy and low maintenance, which is everything you want in a kitchen countertop. The main reason quartz has grown so much in popularity is because it gives the owners free range to design a countertop that they love. For example, you can give your countertops a marble look, while being much sturdier than marble.
Both granite and quartz countertops are great options to consider for your home. You can't go wrong with either, and your choice merely depends on your customization and maintenance preferences. If you have any questions regarding granite or quartz countertops, and the services we provide, please contact us at Complete Kitchen & Bath today!